How to Organize Lettering and Watercolor Supplies
This post may contain affiliate links for your convenience. Read my disclosure policy here.
If art is your career or hobby, then you know that your studio or office can quickly become over run with art supplies. Here's some ideas to help you organize hand lettering and watercolor supplies, as well as other common art supplies like paper, pens and paint!
How to Organize Lettering and Watercolor Supplies
I'm fortunate enough to have my very own office and studio space in our small 3 bedroom home to keep my hand lettering, watercolor and art supplies stored away. However, even with my own space, that small little room can sometimes look like a Dick Blick or Michael's vomited all over it. I recently decided to give my space a bit of a makeover, and added a large pegboard to one wall to help organize my lettering and watercolor supplies. It's been a life changer for sure!
The pegboard isn't the only thing that helps keep me organized, so I'm going to share some of my tips and ideas on how to organize hand lettering and watercolor supplies as well as other items like washi tape, paper and other pens.
Brush Pen and Marker Organization
Probably my most favorite hand lettering supplies (and what I have the most of!) are all of my brush pens and markers. There are several different bins and storage solutions you can buy, but my favorite way to organize brush pens are by using these clear 3 drawer bins from Michael's. I currently have 3 in my space, but I plan to pick up a few more when they are on sale.
Each drawer is divided into 3 equal parts, making it even easier to organize brush pens and markers. The width is perfect for Tombow Dual Tip Brush pens which tend to be longer than most markers. I have mine divided by warm colors, cool colors and neutrals, but might consider organizing them with the Artist's Loft Watercolor markers by rainbow order instead.
These bins are actually marketed to store washi tape, but when I saw them I knew for sure they were great for marker storage. I like storing my brush pens horizontally so that the ink doesn't sit in the tip (and leak!) or run to the bottom and dry out the tip. The ink stays nice and even in the barrel making these pens last longer. At least that's how it works in my brain!
Watercolor Supplies Organization
I have only recently started getting back into watercolor art and doing watercolor lettering, so I haven't accumulated a ton of supplies. However, I do have some things. I like to keep my favorite brushes and water brush pens all in one area, as well as palettes and my large watercolor palette. The pegboard is perfect for this purpose!
My favorite brushes are kept upright in a plastic flower pot. It has little spikes at the bottom that are made to hold flower stems in place, but it works well to keep the brushes upright. You could also just use a mason jar to keep them handy! (Side note: I like those black small buckets for keeping shorter markers, like my Micron pens or paint markers which I do want to keep stored upright!)
I keep the rest of my watercolor supplies, like tubes of paint, small paper pads and larger palette on this cart. The large white plastic tote on top is where everything is kept. The bottom shelf keeps extra markers that are good for coloring but not necessarily lettering, and stickers for planning (which I don't use much anymore!)
Washi Tape Storage
This is a simple idea, but really a life saver! See, I used to have a washi tape hoarding problem. When I was a Happy Planner girl, I collected all of the washi tape. I have a full drawer in my desk dedicated to keeping my washi tape nice and neat. These bins that lock together are awesome! You can rearrange them in many different ways to ensure they fit into any drawer.
I also keep extra office supplies such as sticky notes, white out, erasers and pencil sharpeners here for quick and easy access.
Other Art and Craft Supply Storage Ideas
My desk holds a craft carousel (also from Michael's!) where I keep most of my bullet journaling pens, as well as pencils and dry erase markers for my white board planner.
To keep the rest of my art supplies tidy but accessible, I use a basic plastic cart with drawers. I got a little bit fancy with it and put some leftover wallpaper from my typography wall in the fronts of the drawers. This makes it look neat and tidy from the outside! I added hand lettered labels using my Silhouette Cameo and some vinyl.
And finally, I keep extra paper, books on hand lettering and vinyl in my Kallax Bookshelf from Ikea. The white photo boxes really come in handy for organizing vinyl scraps and other art supplies. The teal The Inky Box mailers hold finished pieces and scraps of specialty paper (like watercolor or marker paper).
What methods do you use to organize your own hand lettering and watercolor supplies at home? I'm always looking for new suggestions!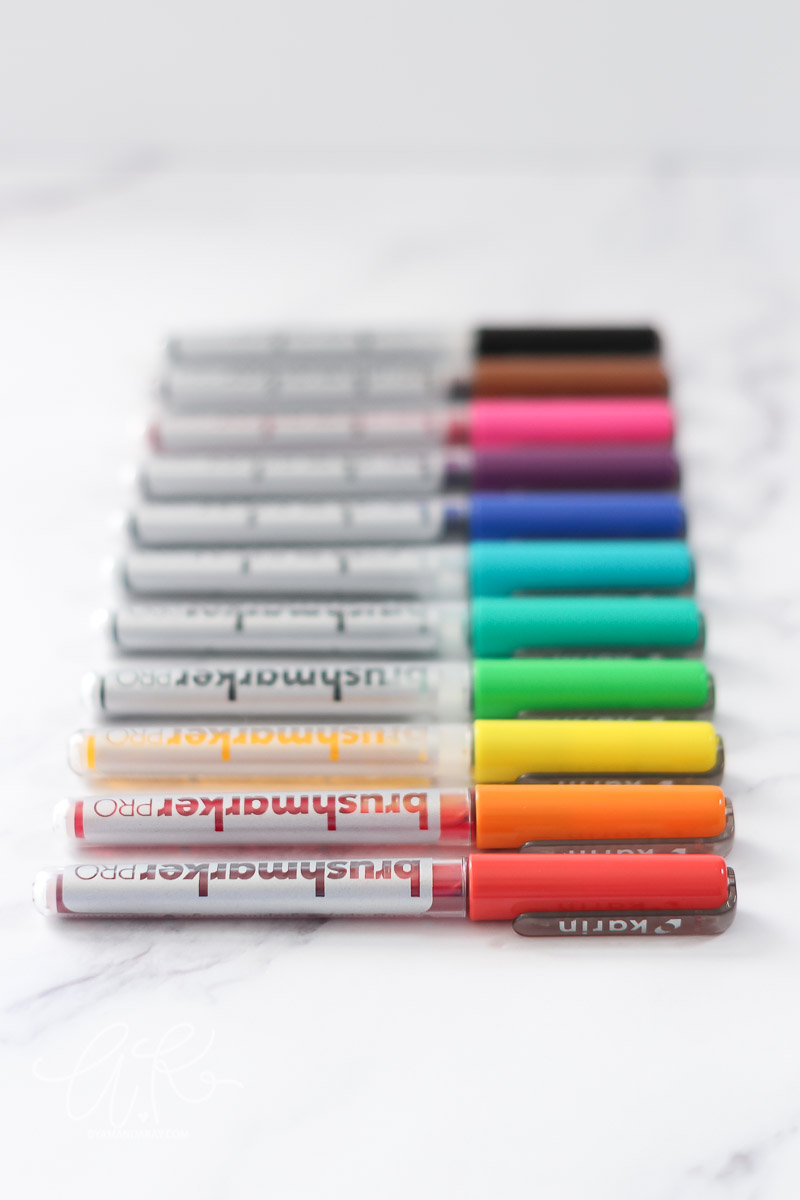 Looking for Supplies?
Check out my Amazon Storefront where I've saved all of the products I use in my projects. These are all supplies that I use and would recommend!
Don't forget to pin it!