Hello! I'm Amanda Kay and I'm so glad you're here!

A little bit about me:
I'm a 30 something, chocolate loving, planner addicted, hand letterer of all the things. When I'm not staring at my computer screen, doodling on whatever scrap of paper that's lying around, or buying new planner supplies, I love spending time outdoors and camping with my husband and 9 year old chocolate lab.
When I was a kid, I loved to doodle, color and paint. I would spend my free time deep in a coloring book, painting at the kitchen table, or set up at my desk drawing away. In college I took several art classes to help fulfill my Interior Design degree and discovered an underlying passion and appreciation for art. While I never pursued it as a career, I did pursue painting and drawing as a hobby for a bit. Then life took over and I put that hobby aside, as I never thought it was something I was good at, just something I enjoyed doing.
In 2013 I started a food and DIY blog called Domestically Creative, and I quickly learned that there was so much more to running a successful blog than just snapping a quick photo of my dinner and writing a little blurb about why it was so tasty. There was a little thing called Pinterest that I quickly learned I needed to create eye catching graphics for if I was going to get people to visit my blog. Through this discovery a new passion was sparked–graphic design.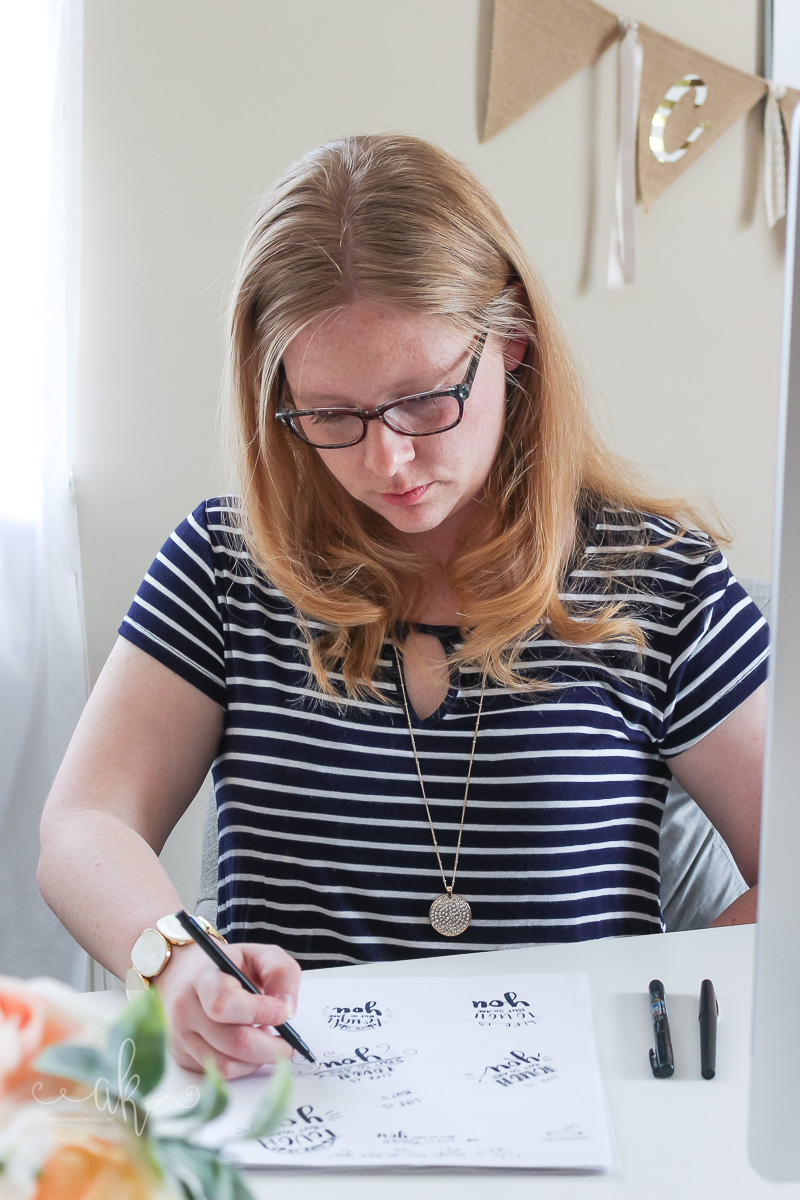 The behind the scenes as far as branding, photography and creating pin worthy graphics was so fascinating for me. I'm a true DIY girl at heart, meaning I'd rather figure out how to make something, or create something myself than pay someone else to do it. The same was true when it came to designing logos, setting up websites and just creating graphics overall. That's when this love of graphic design and typography really started.
What started as just a little side hobby, teaching myself how to pair fonts, use Adobe software like Illustrator and Photoshop and others, has turned into a full fledged obsession. Why not turn that obsession into something useful? I've had the dream to start my own little graphic design and art blog since I started my Etsy shop in late 2016 and I'm finally biting the bullet and going for it! I may not be a true professional in the field, but what I lack in formal training I make up for in my desire to learn and get better. I just hope I can spark an interest in you as well, and we can both learn together along the way!
Designs by Amanda Kay is where all of my passions–graphic design, art and typography–meet! You'll find helpful tutorials for creating all kinds of graphics and art, both digital and physical. I share tons of freebies for you to enjoy including printables, craft files and more! If you want to get the inside scoop on all of my freebies, plus access to member only things, make sure to subscribe to my weekly email list!