The Best Free Procreate Calligraphy Brushes
This post may contain affiliate links for your convenience. Read my disclosure policy here.
Every digital lettering artist needs more calligraphy brushes for their Procreate library right? Even better if those brushes are FREE.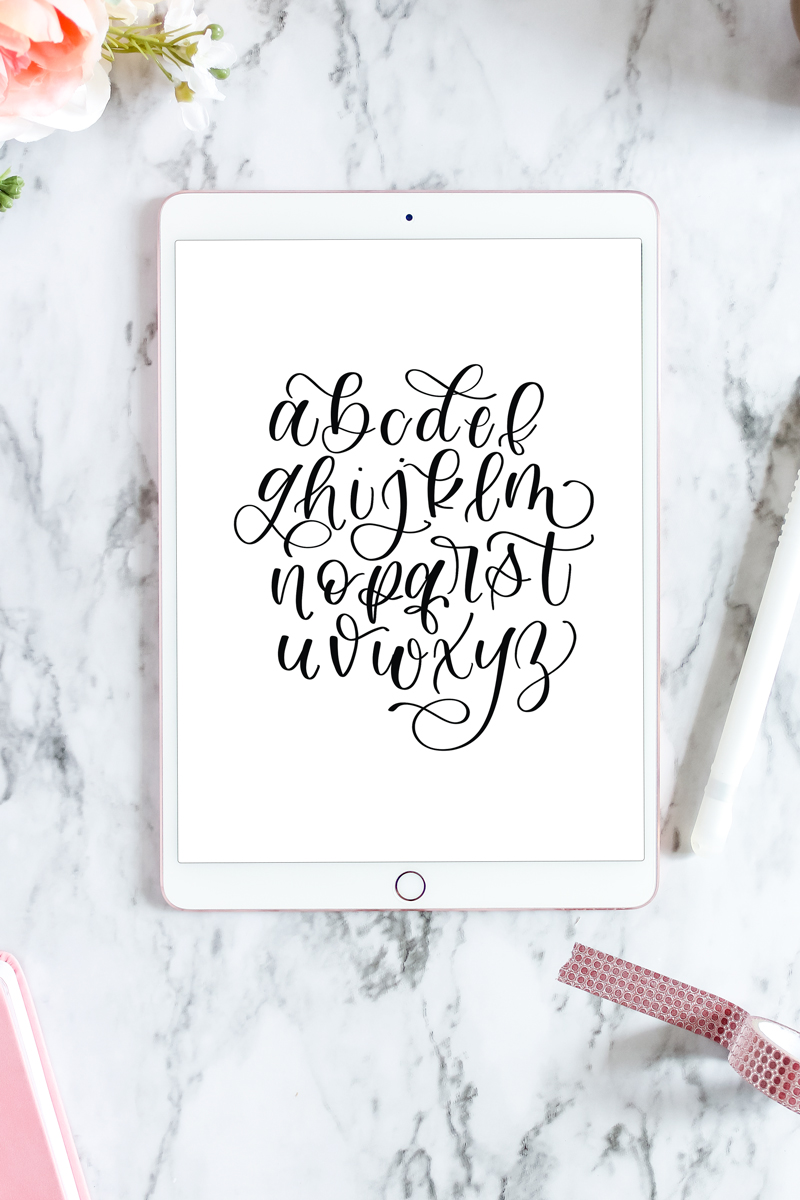 When I first started learning how to use Procreate for lettering over 3 years ago, I shared some of my favorite lettering Procreate brushes. Since then my collection has only grown, and I get asked a lot where I find these Procreate brushes. Would you believe that many of them I've gotten for FREE? Yep.
I decided that maybe YOU would also like to know how to find free brushes for Procreate too, so here we go. I'm sharing some of my favorite free brushes and collections, as well as where I find free Procreate brushes to keep my collection growing.
The Best Free Procreate Calligraphy Brushes
Every digital lettering artist needs more brushes for their Procreate library right? Even better if those brushes are FREE. Check out this list of the best (in my opinion) FREE Procreate brushes for calligraphy and brush lettering. The majority of these are pressure sensitive and will work the best with an Apple Pencil.
Where to Find Free Procreate Brushes
If you are looking to add some new calligraphy brushes to your Procreate collection, here are a few places to look for some freebies.
First, start with your favorite digital lettering artists, or calligraphers in general. If they have a website, chances are they may have an email subscriber library or offer a freebie for a Procreate brush. Psst…I have my own Free Procreate Brush that you can snag by subscribing to my email newsletter below 😉
Besides those artists, you may also find some great lettering Procreate brushes for free on some of the popular fonts and graphics websites. Creative Market is one that offers 6 free goods every Monday and quite often include a Procreate brush or brush pack.
Another great place that sometimes offers free Procreate brushes is The Hungry Jpeg. They offer weekly freebies and sometimes you just might get lucky with a free calligraphy brush for Procreate! They also have $1 deals and run specials quite often.
Design Cuts, which is probably one of my favorite places to purchase graphics, is another great place to find free Procreate brushes. They work directly with the artists who create these products, and always have great freebies. Usually they are samples of a larger bundle, which is a great way to try before you buy!
You can also always create your own Procreate brushes too! This tutorial for making a stamp brush gives you the basic steps for creating a brush. It's really not difficult at all. If you want a full tutorial for making your own lettering brushes for Procreate, leave me a comment below to let me know!
More Procreate Tips and Tutorials:
Don't forget to pin it!