This post may contain affiliate links for your convenience. Read my disclosure policy here.
Practice your brush lettering just in time for Valentine's Day with these love inspired words free lettering practice sheets.
New to brush lettering? Check out this 4 part series on the Basics of Brush Lettering to learn more.
These brand new lettering practice sheets are all about love just in time for Valentine's Day! They feature the words "love" "be mine" "cupid" "adore" and "cherish" in 8 different lettering styles. Each page focuses on a single word with a few different styles to choose from. There are traditional brush lettering, bouncy lettering, flourished, brushed sans serif, monoline sans serif, faux calligraphy, and even a set of my own personal brush lettering style.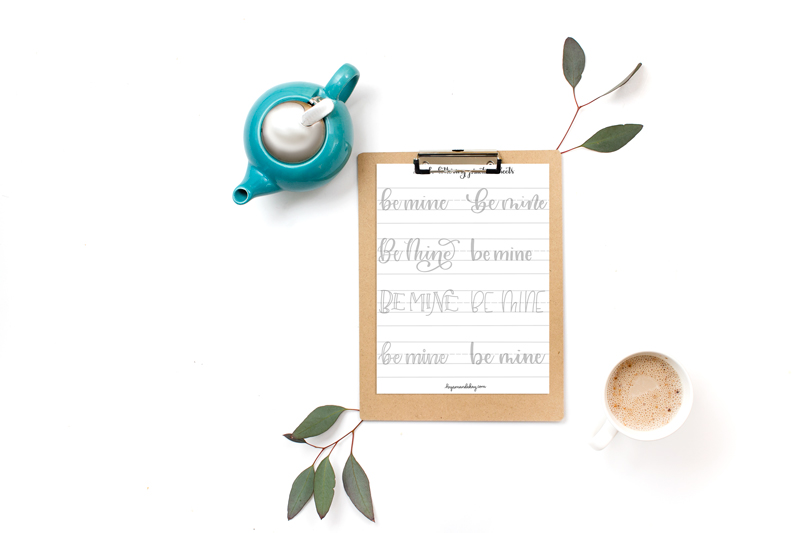 For practicing on paper, I recommend printing these practice sheets on smooth HP Premium 32 paper. Then for the brushed lettering style, where the down strokes are thicker, I recommend using the Tombow Fudenosuke brush pens. For the faux calligraphy and monoline, any pen will do!
Of course you can also use these to brush up on your iPad lettering. Just download and save these love words lettering practice sheets to your iPad to practice in the Procreate app. Either save the PDF to your iPad files, or a simple method is to take a screenshot of each page. Then just add each screenshot in as a new layer in Procreate. EASY!
With any of my free practice sheets, these love words are for personal use only. That means use them as much as you want for yourself, but please do not redistribute them in any way shape or form. Read more about that here.
To get your freebie
To get your own love words lettering practice sheets, subscribe below! You'll gain instant access to the freebie library, and always be notified when new sheets are added.
You may also enjoy these posts:
Don't forget to pin it for later!