The Best Brush Pens for Beginners
If you are overwhelmed with all of the choices and want to know some of the best brush pens for beginners then check out this list!
Do I need a brush pen to learn lettering with?
The simple answer here is NOPE. You definitely do not need to rush out and purchase brush pens to start learning modern calligraphy. In fact, one of the best ways to learn is with a "fauxligraphy" style.
Want to learn more about that? Read this How to Fake Calligraphy post with all of the tips and a video tutorial.
What marker should I start with?
The best pen or marker to start with actually isn't a brush pen at all! Say what? Yep, starting with a plain Crayola marker is inexpensive and a great place to begin! This way you can really hone in your lettering skills FIRST, and add the flexible brush nib after.
Use the broad side of the marker for those thick downstrokes and the tip for thin upstrokes. The Crayola Supertips are great because you can put a lot of pressure on them and they bounce back to their regular shape!
Read Also: Brush Lettering Introduction
The Best Brush Pens for Beginners
If you are ready to move past the basics into the flexible tipped pens, then here are a few of my beginner brush pen recommendations.
Small Tip Brush Pens for Beginners
Tombow Fudenosuke HARD Brush Pens
When I get asked what the best brush pen for a beginner is, I ALWAYS reply with a Tombow Fudenosuke. There are two different nib types, hard and soft. I think the hard nibs are the best to learn with.
When I first started lettering I went through these babies quickly because I used them over and over and over again. They used to only be available in black, but now come in colors! Read my full review on the tombow fude pens.
Pentel Sign Touch Brush Pen
The Pentel Sign Pens are my second recommendation for beginner brush pens. They also have a small nib that is similar to the soft nib of the Tombow Fudenosuke.
They come in 12 juicy basic colors in the U.S. and recently released some pastel colors internationally. Read my full review on the Pentel Sign Touch pens.
LePen Flex
These LePen Flex brush pens are similar to the Pentel Sign brush pens, and come in a variety of color. The nib is very small and flexible which makes it great for beginners. They are also fairly inexpensive!
Large Tip Brush Pens for Beginners
Tombow Dual Tip Brush Pens
The Tombow Dual Tip Brush pens are probably one of the most popular brush pens out there. They are pretty affordable so that makes them a great choice for beginners. The large nib is easy to control and is great for creating dramatic thick vs thin strokes.
One major downside with these pens is that the tips are very sensitive and will fray easily if used on rougher paper. Even printer paper can fray these babies. Read my full review on the Tombow Dual Tip Brush Pens.
Read Also: The Best Paper for Brush Calligraphy
Artist's Loft Watercolor Brush Pens
The Artist's Loft Watercolor brush pens are a less expensive but comparable alternative to Tombow Dual Tips brush pens. They are available at Michael's and on Amazon!
The nibs tend to be a little more sturdy than the Tombow counterparts, but can still fray with heavy use or the wrong paper. Read my full review on the Artist's Loft Watercolor Brush Pens.
Karin Brushmarker Pro Markers
I was hesitant to put the Karin Brushmarker Pro Markers on this brush pen list for beginners but decided to stick with my gut. I have only recently purchased these pens but in such a short time using them, I actually feel like they are better for a beginner than even the Tombow Dual Tip pens. The tip is nylon, meaning it's sturdier and can withstand more pressure or rough paper. In fact, I find these pens work best on watercolor paper.
They are fairly expensive compared to Tombow or Artist's Loft, which is where my hesitation to include them came from. However, if you decide to invest I think you'll love them and reach for these pens over and over again when you practice!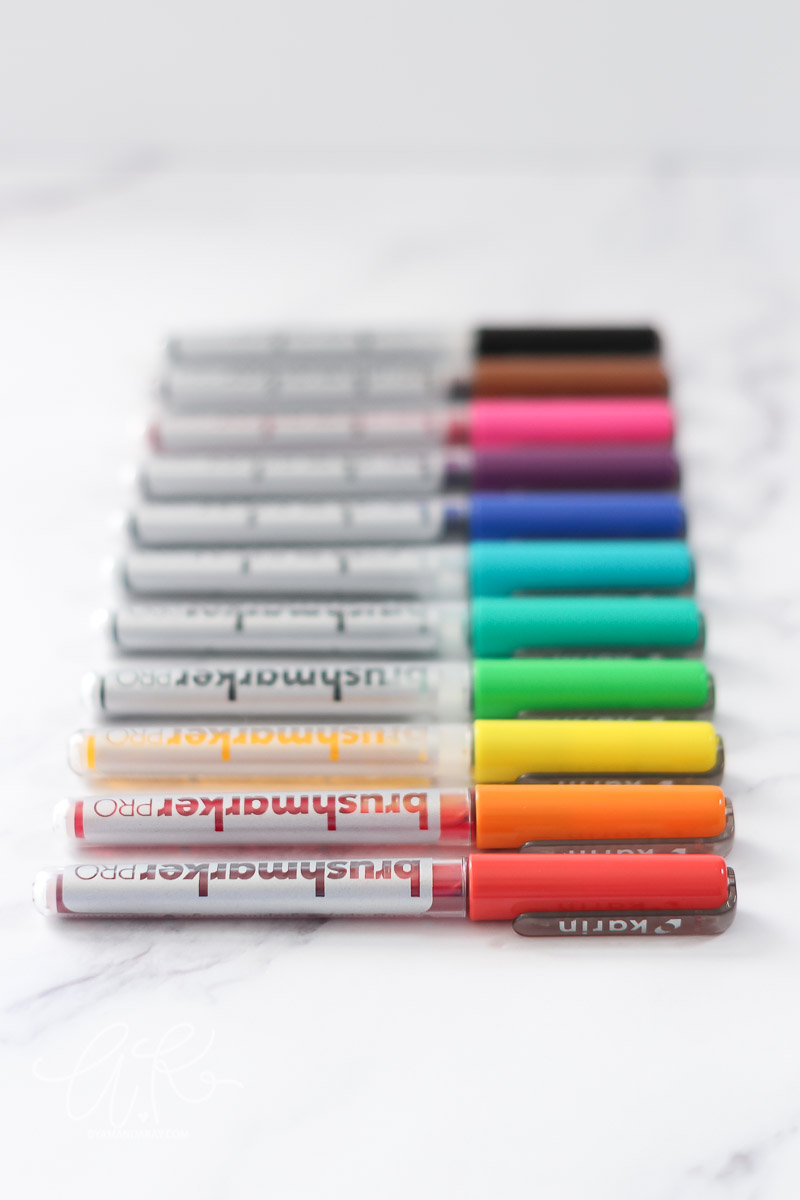 Looking for Supplies?
Check out my Amazon Storefront where I've saved all of the products I use in my projects. These are all supplies that I use and would recommend!
And that is my list of the best brush pens for beginners! Looking for more hand lettering supplies? Read this post on my favorite supplies for hand lettering.
You may also like:
Don't forget to pin it!