This post may contain affiliate links for your convenience. Read my disclosure policy here.
Curious about the Tombow Dual brush pens and if they would be a good fit for you? Read this honest review or watch the video!
This is the fourth video in my pen review series. This month I'm talking about the popular Tombow Dual brush pens (not to be confused with the Tombow Fudenosuke I've already reviewed!). Read or watch the Tombow Dual brush pen review below!
It's important to note that this review and my other reviews have not been sponsored by the pen companies. These reviews are purely my own opinion and the brush pens were purchased with my own money. The links below however are affiliate links. That means is if you click on a link and make a purchase I may earn a commission. What it doesn't mean is that the products cost you any more, or that there is anything hidden.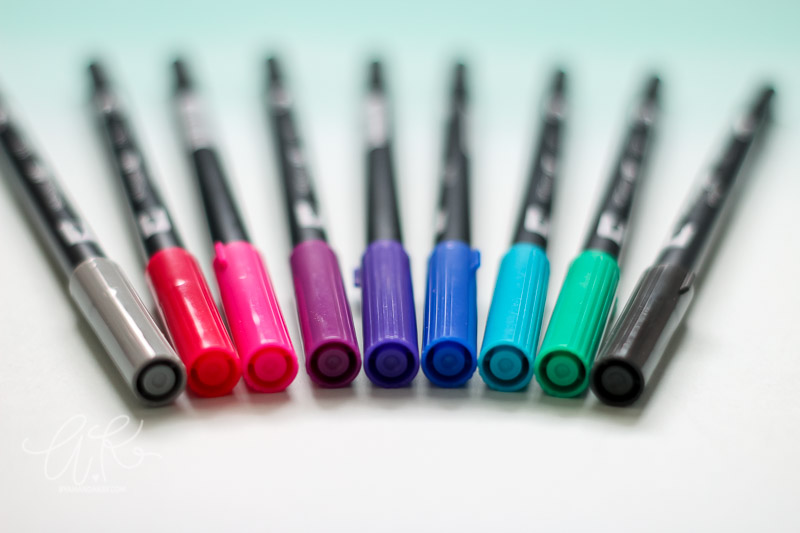 Tombow Dual Brush Pen Review
If you've ever searched Google for the best brush pens for modern calligraphy, you've probably read about these brush pens. They are probably (at least in my opinion) the most popular and recommended brush pen for hand lettering. In fact, these were my first ever brush pens I purchased. They come in many many MANY different colors and Tombow is always adding new sets. Here are a few of my favorites, all 10 packs:
Nib and Control
The Tombow Dual Brush Pens actually have two tips on them, hence the name "dual". One side has a bullet tip that is great for some finer details. It's important to know that it is not the size of a fineliner tip, but small enough to still do some shading or jot some things down in your bullet journal.
The other side is a large felt tapered tip, or brush tip. This tip is very flexible and elastic, which is how you'll achieve those thick down stroke and thin upstrokes in your basic brush lettering. Since the tip is flexible it bounces back really nicely especially those brand new pens!
Another cool thing about the Tombow Dual Brush Pens is that the tips are self cleaning! That means you can combine colors on one tip and it won't permanently stain the tip. Create some pretty ombre lettering this way.
One major downside to these pens (and other felt tip pens like them) is that the tips can fray very easily if you aren't using the right paper. I always recommend that you use a smooth paper like this one for printing out any practice sheets you find on the web. Another good paper to use is the Canson marker paper. Both of these options are very smooth and will help those tips last as long as possible.
Colors and Ink
I mentioned above that there are TONS of colors in the Tombow Dual Brush Pens. The colors are nicely saturated too so you get a great vibrant color in your work.
The ink is water based, so that means the colors can blend easily. Each pack comes with a colorless blender marker to use for just that! I'll be doing a video soon of how to use the colorless blender so make sure you subscribe to my channel or email newsletter so you don't miss it!
Price Point
The price for a 10 pack of Tombow Dual Brush pens is less expensive than a lot of other brush pens. However, $26 regular price is still a little steep. You can shop on Amazon for the packs, or be like me and wait for a sale! I prefer to wait until I can score a pack for $12-$15. Michael's will run them on sale frequently and sometimes you can stack a coupon on top making them a great deal. If you can't wait for a sale to try them out, I have seen smaller packs available at Walmart!
Other Comments
These brush pens are large, and I'm not just talking about the brush tip. The entire marker is very long and can sometimes be a pain to store. I've found that these washi tape storage containers fit the Tombow Dual Brush Pens perfectly! You can also purchase a Tombow case for easy storage as well.
Final Thoughts and Review of the Tombow Dual Brush Pens
Pros
Bouncy flexible tip good for thick downstrokes and thin upstrokes
Elastic tip can handle quite a bit of pressure
Tons of color options that are pretty saturated
Water based ink that blends well
Cons
Tip frays easily if used on rough paper
Large size makes storing them difficult
Over all these are great pens for beginners and advanced lettering artists. The color choices are endless and you can create so many different pieces with them!
Watch the Tombow Dual Brush Pen Review Video Below:
Next month I'll be reviewing the Artist's Loft Watercolor Pens, so make sure you sign up for my weekly newsletter and subscribe to my Youtube Channel so you don't miss it!
Sharing is Caring! Don't forget to pin it!